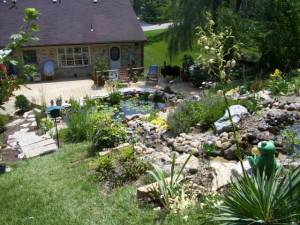 After extensive house hunting in December 2000 my wife came upon the "perfect" house. Her "perfect" house had a backyard with a steep incline so when standing at the back property line you were actually overlooking the roof of the house. Then and there I made a decision to find a way to eliminate lawn mowing. Naturally my first thought was to build brick or stone retaining walls, which would contain landscaping of all kinds. Upon pricing with several companies the expense was too great. My thinking then turned to building a waterfall using the natural 30-degree incline of the yard completing the project with a pond. I began a search of information on how to build a waterfall and pond. Being new to the area I didn't have much luck. Most garden stores gave minimal information and they really had no idea of the scale I intended to build. Eventually I met T.J. at Grandma's Garden and he helped me to re-landscape a small area by our mailbox, and then move up to a larger area near the front house. I really had no previous landscape experience but was committed to improving our house's "curb appeal". In my talkings with T.J. he told me something, which I've taken to heart on every project, I began, "If you don't like your finished design you're only a shovel away from fixing it." This gave me the confidence to design and complete my next landscape project-the waterfall and pond.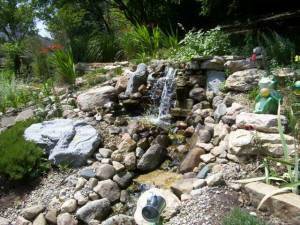 Back in my mind was all that uphill mowing and now that I have more knowledge and confidence I began looking around for a Landscaping Company who could build a waterfall and pond. The beginning work went incredibly slow and at times very frustrating. There were not many companies who would spend the time to listen to what I wanted, give input, and come up with an affordable plan. Finally I ran into some great luck and paired up with Michael's Landscaping. The ground was broken, and my two creek waterfalls began flowing into a twenty-five feet pond. Now the real journey and obsession had begun. Just about everyone you talk with in the water garden club have had their "growing pains" making their ponds just perfect and I was certainly no exception.
The first year we had lots of flooding problems when it rained. One down pour washed all the mulch into the pond. Later a 3" and hour rain flooded our entire backyard. I built a French drain the length of the waterfall creek then built retaining walls to keep the dirt up the hill. Once the water problem was fixed the planting started to take shape. I have since lost track of the names of everything planted and in the fall the plants are amazing. To help get rid of the backyard mud I build a deck last summer and now my wife and I spend many hours sitting and watching the fish frogs, birds, squirrels, and yes even deer. As I sit there I'm always thinking of how to change, add to, or improve the looks of my "little pond" and then think to myself, "I did cut down on the hours spent lawn mowing."


Materials Used For My Pond
The pond is 15' x 20' x 3' deep with 2 waterfalls and has 2 streams coming from a main bio-waterfall.
Clean sweep skimmer and pre filter
2" filter mat
mesh debris bag
45-mil rubber liner
Vancs Pump, 50pu 2.45 72 gal pm or 4,320 per hr.
Bio filter, 30 x 30 x 30, 3pcs. 2" filter mats, 3 bags of lava rocks
40 tons of stone and rock